Arcadia Alliance is an international partnership between two proven shipyards that will design, build and deliver carbon fiber fast ferries in the U.S. to American operators.
As Arcadia Alliance, these two shipyards are designing and building ferries that require less fuel, produce fewer emissions, require less maintenance and have a higher resale value than ferries built of steel or aluminum. Using carbon fiber, Arcadia Alliance produces lightweight, strong structures that experience no corrosion, leakage or condensation damage.
USCG-approved T-Class and K-Class vessels built in carbon fiber laminates are lightweight, requiring smaller engines to attain required speeds and reducing lifetime service costs. The overall savings are significant.
---

Brødrene Aa of Norway has built more than 50 carbon fiber fast ferries, delivering them across Europe and into Hong Kong. They maintain a majority share of the global ferry production marketplace.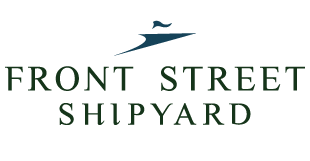 Front Street Shipyard of Maine, USA, has a talented workforce operating out of a modern construction facility in Maine with deep water and the greatest lifting capacity in the northeastern U.S.